Turbosliders Retro Pack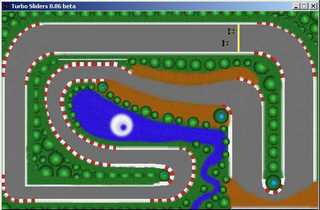 If you want to use old Turboslider Tracks and Cars like they looked until Version 0.86 you can
Download the Trackpack here!
(8 MB, ~315 Tracks, Version 2.1)
Just make sure you extract it into your Turbosliders directory, content of /cars has to be in /cars, etc.
This Track-Pack does not affect your existing tracks and cars! Even the old tracks will not be mixed
and extracted in the subdirectory /tracks/oldstyle if you extract them correctly.
If you want to use another old track not included in this pack and you want it to look like this
just open the .trk-file with an text-editor and replace tiles.til with tiles.old.til.